2023 Nissan Z in Duarte, CA
---

2023 Nissan Z Debut at Nissan of Duarte
The legendary Z-Car made its original debut in the year 1969 and was immediately loved by sports car enthusiasts around the world. For the year 2023, the new Nissan Z is back and better than ever before with its modern updates. Even though the new Z has been updated, it still holds true to the classic and timeless style that we have all come to expect from the Nissan Z-Series. To learn how you can find your very own 2023 Nissan Z, come by Nissan of Duarte. We are located in Duarte, California, a short distance away from Baldwin Park, Los Angeles, and West Covina.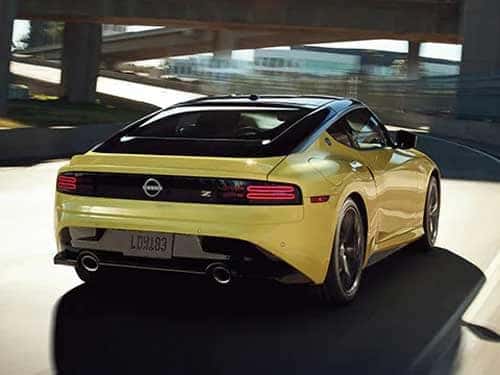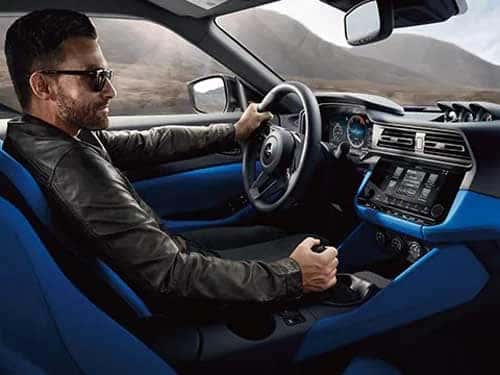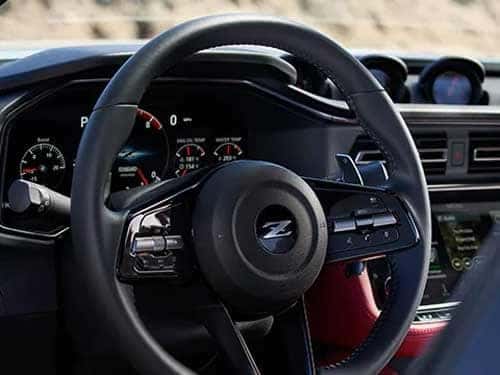 We appreciate your interest in our inventory, and apologize we do not have model details displaying on the website at this time. Please fill the form out below and our team will quickly respond, or, please call us at (626) 702-2743 for more information.

Timeless Design
The 2023 Nissan Z was designed to be reminiscent of the Z-Cars from the past. It has a long hood, short rear deck, and a wide grille that enhances its airflow. The curved headlights, as well as the LED taillights, also add to its bold and striking design. The taillights' 3D double-layered design was inspired by other iconic Nissan Z-Cars. To make it even more eye-catching, you can choose to have a two-toned exterior paint design which is available with six of the 2023 Z's exterior colors.
Modern and Functional Interior
The interior of a sports car is an extremely important part of the overall design. In the new 2023 Nissan Z, you'll always feel safe and secure, even when you're out on the track. The Z is still a two-seat coupe, and the 2023 Z includes thoughtfully designed performance seats. With anti-slip material, a slide-reducing center pad, and enhanced lateral support, you'll always feel ready to take on any challenge while sitting in the seats of your 2023 Z. The cabin has also been updated with modern tech and new and improved materials that heighten the sense of luxury in the Z.
Exciting Performance
Those who are fans of the classic Z-Series will find their expectations exceeded with the new 2023 Nissan Z. So, what's the new Z got under the hood? Well, the 2023 Z's extremely powerful performance comes from its 3.0-liter V6 twin-turbocharged 24-valve engine that provides 400 horsepower. It can be paired with either a manual or automatic transmission. The 6-speed manual transmission provides precise control with its first and second gear synchros. The 9-speed automatic transmission will be just as satisfying to drive as a manual transmission due to its shift-by-wire technology. The 2023 Z's performance is also enhanced by its rear-wheel drive, rear suspension tuning, and for the first time ever, electric power steering.
When looking for your next sports car, you might be worried about your gas mileage. This is normal, as sports cars aren't generally known for their efficiency, but the Z nets a respectable EPA-estimated 24 miles on the highway, making it both a practical and powerful choice. The engine of the Nissan Z also allows your tires to truly dig into the pavement, as you'll have an amazing 350 lb.-ft. of torque. This gives you the acceleration you need to blast off at high speeds at a moment's notice. Once you're moving, you'll find that you can smoothly transition between gears, allowing you to effortlessly overtake other models. When your engine's turbines can put out up to 240,000 revolutions per minute, there's nothing stopping you. The Z also boasts a water-cooled intercooler, so that you can step on the gas without worrying about the heat.
Advanced Technology
The 2023 Nissan Z was designed to provide an enjoyable and thrilling drive. The technology inside a vehicle can help you feel more comfortable and content as you travel, which is why the new Z includes updated tech throughout. Upgrade to the available 9-inch touchscreen display where you can connect to wireless Apple CarPlay or Android Auto. Also, the Z's triple pod cluster lets you access useful information like turbine speed and turbo boost.
This allows you to keep a close eye on your performance, which comes in handy when you're on the track. When you're trying to cut down on your lap times, you can count on the Z's triple pod cluster to gather the information you need.
When you're laser-focused on how your vehicle is performing, you may also want to take a look at the 12.3-inch Digital Dashboard. It offers three unique presets so that you can quickly adjust to the situation at hand. The Normal mode will give you basic information like your speedometer, navigation, and maps. You can easily switch to Sport mode though, which equips you with a tachometer in the center, alongside an upshift indicator and a slew of customizable options. For readability, you can also opt for Enhanced mode. While the Z is a sports car, it offers much more than just power. When you want a model that has the best of both worlds, nothing beats the Z.
Superior Safety Features
When you're driving a car that's this fast, you're going to want to make sure that you're equipped with the best safety features currently on the market. The Z comes equipped with a long list of standard and available systems, with standouts including:
Automatic Emergency Braking with Pedestrian Detection: You won't always be quick enough to hit the brakes, which is where this system comes in. When it detects a potential crash, whether that be with a car or a pedestrian, it can activate your brakes for you.
Blind Spot Warning: When you're trying to merge on the highway, your blind spot can be incredibly dangerous. This system makes sure that the lane is clear so that you have nothing to worry about.
Rear Cross Traffic Alert: If you're backing out of a parking spot, you can count on this feature to keep an eye out behind you. When a car is approaching, you'll receive a brisk warning.
High Beam Assist: When you're driving at night, you'll be able to keep your brights on thanks to this feature. Instead of constantly toggling them yourself, this system will turn them off when another car is approaching.
Lane Departure Warning: When you begin to drift outside of your lane without a signal, this system will warn you so that you can quickly correct your course.
And More
Come by Nissan of Duarte to learn more about the debut of the 2023 Nissan Z.