2023 Nissan Altima Near Duarte, CA

2023 Nissan Altima at Nissan of Duarte
The 2023 Nissan Altima is a time-tested model, proving year after year that it brings exceptional handling to the table. When you're looking at the latest iteration, you'll surely be impressed with all the new features that it has to offer. When you want to hop behind the wheel near Glendale, Duarte, or El Monte, you can schedule your next test drive with Nissan of Duarte.
Top Features of The 2023 Nissan Altima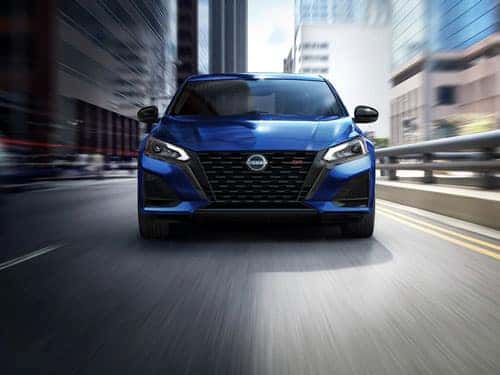 Save More on Your Gas with the Nissan Altima
The Nissan Altima sports up to an EPA-estimated 39 miles per gallon on the highway, making it incredibly efficient. You won't have to worry about burning a hole through your wallet when you decide to make a long trip, as this sedan is surprisingly fuel-conscious on the road.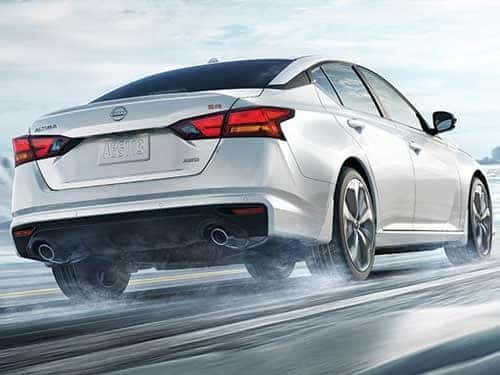 The Power of Intelligent All-Wheel Drive
If you've ever driven through the rain, you've probably noticed that your handling immediately plummets from the slippery conditions. With the available Intelligent All-Wheel Drive though, your Altima will constantly be looking for ways to improve traction.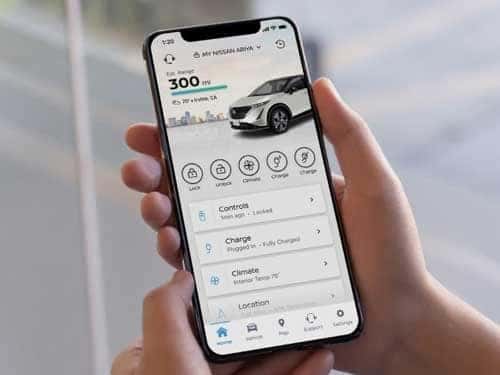 Interacting with Your Altima from a Distance
If you opt for the available MyNISSAN App, you'll be able to start your model from a distance. This makes it incredibly easy to get ready for work, especially during the winter. When it's cold outside, you can count on your model being warmed up and ready to go once you decide to leave.
Amazing Handling
When you're behind the wheel, you're going to want a vehicle that feels truly responsive, and thanks to the standard 2.5-liter Direct Injection Gasoline engine, you'll have exactly that. As soon as you step on the gas, you'll feel the crazy acceleration that this model has to offer. If you find yourself craving more though, you can opt for the available VC-Turbo engine, which boasts 248 horsepower. Once you've made your choice, you're ready to hit the road in style, while your other parts like your Xtronic Continuously Variable Transmission make sure that you can own every turn. This model is incredibly maneuverable, and you'll find that you can make sharp turns that you would struggle with if you were in any other vehicle. This makes it perfect if you're after pure performance, especially if you decide to go all-out on the engine, while still offering a relaxing drive for your daily commute.
An Impressive Interior
When you open the door of the 2023 Nissan Altima, you're sure to immediately notice the refreshing design, which consists of a sleek matte-chrome tone. The next thing you're bound to notice is the sheer amount of space inside your cabin. Even though this vehicle may seem small from a distance, it doesn't sacrifice any space on the inside, as both you and your passengers will be able to stretch your legs for those long road trips. This applies to your trunk as well, as you'll have an immense 58.8 cu. ft. of cargo space, allowing you to fit everything from luggage to groceries without any issues. If you find that your cargo might not fit, you still won't have to worry, as you'll have 60/40-split rear seats that can help you accommodate. With the 2023 Nissan Altima, you'll find that your interior is as stylish as it is practical.
Unmatched Safety
Safety features have continued to innovate themselves year after year with every new model, but you'll love just how far the 2023 Nissan Altima goes to make sure that you're safe on the road. With standard Nissan Safety Shield 360, you can expect everything from a Rear Cross Traffic Alert to High Beam Assist, so that you're always ready for both the parking lot and nighttime. You'll also have Automatic Emergency Braking, which can help you to avoid accidents on the road altogether, and at worst, can help prevent some of the damage from the crash by quickly applying pressure to your brakes. You'll also have other systems like the available ProPilot assist, which can make long drives trivial by taking all the burden off of you. Your car will seamlessly match the flow of traffic, allowing you to simply pay attention behind the wheel as it does a great deal of driving on its own.
The Nissan Altima Brings Connectivity to The Table
Modern technology has truly changed everything when it comes to cars, as you can do more than ever before. When you want to see what a true 2023 model can bring to the table, you'll want to look at all of the innovative features that the Altima offers. You'll be able to take advantage of your new 12.3-inch HD Touch-Screen Display which can show you everything from your current song to your navigation. It's also incredibly easy to interact with, thanks to both wireless Apple CarPlay and Android Auto. Once your phone is connected, you'll be able to easily use your favorite apps, and if you opt for the available wireless charging pad, you'll have the perfect spot to store it while you drive. This will also help to cut down on the number of wires in your vehicle, which can make for a cleaner appearance overall. If you're still not satisfied, you'll want to see what NissanConnect Services can do for you. With everything from customizable emergency alerts to functions like locking or unlocking your doors, it truly has it all.
Features That Will Enhance Your Next Drive
While the Altima is easy to interact with thanks to its massive touchscreen, you might be wondering what else it brings to the table. Some trims offer available Active Noise Cancellation, which will help to drown out any sounds from the road. You won't have to worry about pounding construction ruining your favorite song, and if you decide to equip the available Bose Premium Audio System, you'll have amazing sound quality, too. This makes the inside of your Altima a getaway from all of the rumbling outside, and you'll even find that SL models go the extra mile with their acoustic laminated glass, which comes on both the windshield and the front side windows. Now that you can focus, you can pay attention to your available full-color 7-inch Advanced Drive-Assist Display which can show you your messages, navigation, and more. This can help reduce the distractions that you might otherwise have when you're behind the wheel and the display gives your interior a futuristic, refined look. When you want to enjoy each and every drive, you'll want to trust that the Nissan Altima provides you with the features and systems that you need.
When you're looking at financing the 2023 Nissan Altima, you can get pre-qualified online or visit Nissan of Duarte.