2019 Nissan Titan Towing Capacity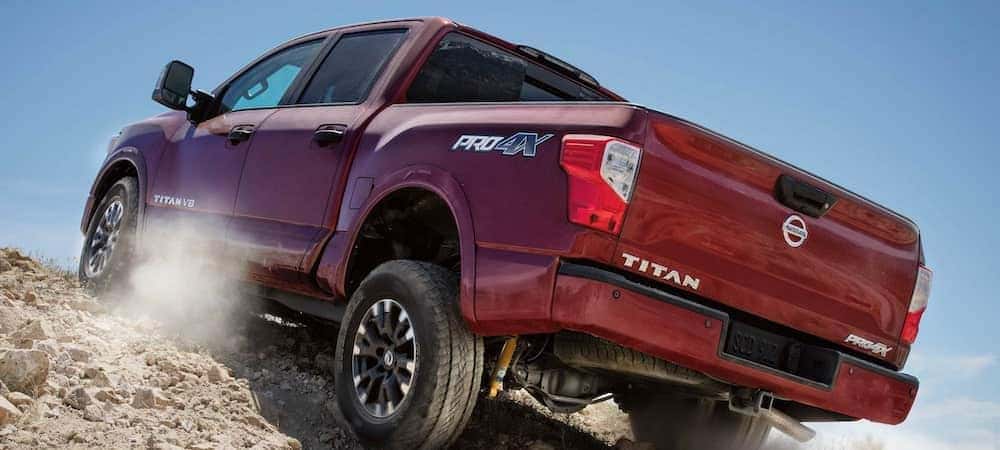 If you're looking for a new Nissan truck, then you want to know about 2019 Nissan Titan towing capacity. The first thing you should know is that there are a few differences between the Nissan Titan and the Nissan Titan XD. The Nissan Titan can tow up to 9,660 pounds when properly equipped, and the Titan XD can tow up to 12,710 pounds. Learn the differences between the two below, and learn more about Nissan Titan towing capacity with help from our team below!
Nissan Titan Towing and Performance Specs
Both the Titan and the Titan XD come standard with the same engine, a 5.6L ENDURANCE® V8 gas engine with 390 hp and 394 lb-ft of torque. Nissan Titan specs are as follows:
With Crew Cab – 9,380 pounds
With King Cab – 9,450 pounds
With Single Cab – 9,660 pounds
With Crew Cab – 9,240 pounds
With King Cab – 9,250 pounds
With Single Cab – 9,540 pounds
Baldwin Park drivers that want access to more capability with likely reach for the Titan XD and its available 5.0L CUMMINS® turbocharged diesel engine. This engine produces 310 hp and up to 555 lb-ft of torque, and Nissan Titan XD towing capacities are as follows:
With King Cab – 12,480 pounds
With Single Cab – 12,710 pounds
With Crew Cab – 11,960 pounds
With King Cab – 12,120 pounds
With Single Cab – 12,430 pounds
A few additional towing features include Nissan Intelligent Mobility™, and Trailer Light Check technology, to allow safe and secure towing through Covina. For even more capability, talk to our parts department about Nissan Titan accessories.
Nissan Titan Payload and Bed Dimensions
Of course, it's important to know about the payload capabilities of the Nissan Titan for those West Covina or Monrovia job sites. Titan cargo and payload specs are as follows:
The maximum Titan payload capacity will vary depending on the cab you select, but if we assume you opt for the Single Cab, it'll top out at 1,930 pounds in the Titan, and 2,990 pounds in the Titan XD!
The Titan offers three bed size options, and each is paired with one of the three available cabs. The Single Cab comes with a 98.5-inch bed, while the Crew Cab features a 67-inch truck bed.
The Titan XD only offers two different bed sizes: A 78.7 inch option (with both the Crew and the King Cabs) and a 98.5-inch bed with the Single.
For additional capability and convenience, the Nissan Titan is available with the following cargo features:
Lockable bed storage
Utili-track® multi-channel system
120-V in-bed power outlet
LED bed lighting
Find Your Nissan Titan with Nissan of Duarte!
Are you ready to get behind the wheel of a new Nissan Titan or Titan XD for yourself? Schedule a test drive at Nissan of Duarte today! We'll help you experience the capability of a new Nissan Titan or Titan XD today. If you have any questions, please don't hesitate to contact us online today. Also be sure to check out Nissan Frontier towing if you'd like to learn more!
Want to learn more with our team? Compare the Nissan Titan vs. Toyota Tundra or the Nissan Pathfinder vs. Honda Pilot today! You can also learn more about the 2020 Nissan Pathfinder towing capacity, 2020 Rogue colors ,and 10 car maintenance tips everyone should know with our team.